Small, private, luxurious, informal, tranquil, relaxing. Just some of the words to describe one of St Ives' best hotels. They offer five individually designed suites and beautiful views over the bay. There is also a bar and restaurant.
According to one independent review:
"The experience of staying at the Blue Hayes is altogether unique. It is a modernized old fashioned experience, where you can roam around the house, read a book, sit on the terrace, dine – in short, enjoy your holiday without ever having to leave. This is the kind of hotel you would stay at if it was on a roundabout in the middle of the M25 - where the hotel is the holiday. It is tranquil and luxurious."
As an added bonus - Blue Hayes is not on the M25, its a ten minute stroll from St Ives Harbour !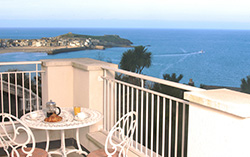 Blue Hayes - Master Suite - Balcony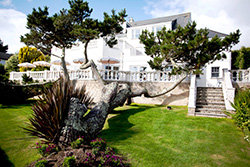 Blue Hayes Private Hotel