In the centre of town - just a short walk from harbour and beaches.
Gastropub serving locally sourced food.
All of the attractions of St Ives are right on the doorstep - shops, galleries, restaurants, bars.
Rooms are bright and spacious, with a flat-screen satellite TV. They feature vintage furniture and Cornish art. A hotel of real character.
Rooms on the top floor have sea views.
Free Wi-Fi Internet.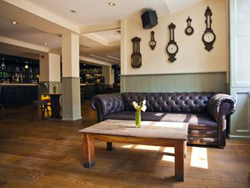 The Queens Hotel St Ives