St Ives Cornwall and St Ives Bay - tides - tide and water level reports - updated hourly by Environment Agency water level sensors.
St Ives Bay tides:
Porthminster
Porthgwidden
Porthmeor
Carbis Bay
Porthkidney
Hayle Towans
Godrevy
Important Note:
If in doubt about tides or any other aspect of beach / water safety - always seek local advice.
The RNLI lifeguards are there to help !
Custom Search
---
Share This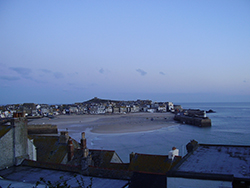 St Ives Cornwall - The Harbour