Two of the main UK banks have branches in St Ives.
They are all clustered in one area around High Street and Tregenna Place in the centre of town.
Counter services is available Monday to Friday - opening hours vary from bank to bank.
All have cashpoints, available 24 hours.
Note: for foreign currency exchange go to
St Ives Post Office
Barclays Bank , High Street.
Nat West Bank, Tregenna Place.
Share This
---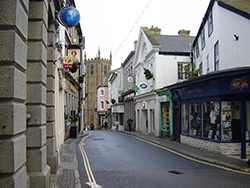 St Ives Cornwall - Banks