Creative craft activities and workshops for families and children - weaving, felt making, clay and many more.
Jo McIntosh runs a programme of craft workshops in St Ives Cornwall for children, teenagers and families.
She also offers private workshops for families - which you could enjoy in your holiday home. Family time - enjoy doing something creative together. Kids time - let them enjoy creative crafts with Jo while you take time out to explore St Ives.
Jo runs workshops for children in St Ives Library and in schools and so holds the relevant CRB disclosure certificate for working with children.
Children's workshops include:
Papier-Mâché
Weaving
Felt Making
Clay
and many more .....
Have fun - get creative! Contact Jo for more information.
Share This
---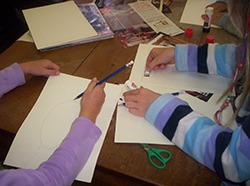 St Ives Cornwall - Children - Crafts