Doctors surgery - general practice offfering medical sevices for the commmunity and holiday visitors.
General medical help and advice.
Medicines - prescriptions.
Vaccinations.
Emergency contraception.
Minor surgery.
Minor injuries unit.
The surgery is located on The Stennack - a short walk from St Ives town centre.
Call to make an appointment. A same day service is available for those with a medical problem needing urgent attention.
Out of hours service - use the telephone number on the right.
Medical emergency - dial 999 for an ambulance.
Share This
---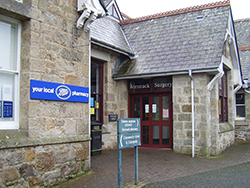 St Ives Cornwall - Stennack Surgery